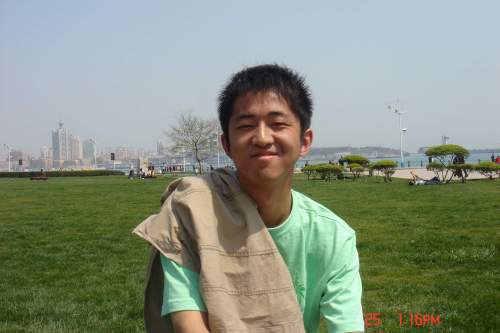 Qing Dao, 04/23/2007
奚 宁


Ning Xi
Address

Natural Language Processing Laboratory
State Key Laboratory for Novel Software Technology
Department of Compute Science and Technology , Nanjing University
NO. 163 Xianlin Avenue, Qixia District
Room 911, Computer Science and Technology Building
Nanjing, 210046, Jiangsu Province, P.R.China

E-mail

xin at nlp dot nju dot edu dot cn
About Me
I am in the third year as a Ph.D. candidate in Department of Computer Science and Technology at Nanjing University. My area of interest is statistical machine translation. I received my B. Sc. degree of Mathematics in 2007 from Nanjing University of Aeronautics and Astronautics. I continued to study for a Ph.D. degree of Computer Science at Nanjing University.
Research Interests
Statistical Machine Translation (SMT)
Word Segmentation
Statistical Word Alignment
Parsing
Multiple Word Expression (MWE)
Recent News
I am a member of the program committee of WMT 2012
My short paper was accepted by ACL 2012
I returned from CWMT 2011 following immediately MT Submit at Xiamen
I was selected as a volunteer in MT Submit XIII at Xiamen, China. P.R
We got good results in CWMT 2011.
I am attending ACL 2011 at Portland in the us
I am preparing CWMT 2011 as the manager of our group.
I am preparing paper for EMNLP 2011, but the experiment has driven me into despair
My submission to ACL 2011 student session has been accepted
The idea discussed by Boyuan Li and me seems to be working"
I am preparing paper for Student Session of ACL 2011
I have been co-worked with Boyuan Li on topic "Training a SMT-orienated segmenter"
Working Experiences
I am in charge of our SMT group (09/01/2010 till now)
I was in internship in Natural Language Computing Research Group in MSRA , supervised by Henry Li (01/06/2009 to 08/14/2009)
Teaching Assistant of "Database System" in our department, supervised by Wenyang Bai (10/01/2007 to 01/15/2008)
Publications
2012
Ning Xi, Guangchao Tang, Xinyu Dai, Shujian Huang, Jiajun Chen. 2012. Enhancing Statistical Machine Translation with Character Alignment. Accepted by ACL 2012 (short paper)


2011
Ning Xi, Yinggong Zhao, Guangchao Tang, Zhonghua Li, Youqiang Liu, Xinyu Dai, Jiajun Chen. 2011. NJU-NLP Technical Report for the 7th China Workshop on Machine Translation (CWMT 2011). CWMT 2011.
Ning Xi, Yinggong Zhao, Guangchao Tang, Bin Li, Chunyong Luo, Xinyu Dai, Jiajun Chen. 2011. Combining Language Model with Multiple Word Segmentation for SMT. CWMT 2011.
Youqiang Liu, Bin Li, Ning Xi. 2011. A Bilingual-Constrained Approach for Extracting Chinese Abbreviations. CNCCL 2011.
Boyuan Li, Ning Xi, Shujian Huang, Jianbin Zhang, Jiajun Chen. 2011. Training a MT-motivated Segmenter. CNCCL 2011.
Ning Xi, Guangchao Tang, Boyuan Li, and Yinggong Zhao. 2011. Word Alignment Combination over Multiple Word Segmentation. In Proceedings of ACL 2011.[paper]


2009
Li Chi-ho, Xiaodong He, Yupeng Liu, and Ning Xi. 2009. Incremental HMM Alignment for MT System Combination. In Proceedings of ACL 2009. [paper]
Shujian Huang, Ning Xi, Yinggong Zhao, Xinyu Dai, and Jiajun Chen. 2009. An Error-Sensitive Metric for Word Alignment in Phrase-based SMT. Journal of Chinese Information Processing, 23(3). [paper]


Softwares
A phrase-based MT decoder written by C# (to be released)
Collected Tips
Acadamic Friends
Trivia
| | | |
| --- | --- | --- |
| Created on 04/25/2010, updated on 01/18/2011. | | |